Training
Coronavirus Update - During this time we can still offer support and training for you, your business or organisation via our Virtual Mental Well-Being Training. Courses offered are of varying length, using a virtual classroom facility as follows:
Mental Health Awareness - General and Covid-19 Specific Versions.
Mindfulness
York Mind Mental Health First Aid - General, Staff and Manager versions available
Suicide Prevention
Managing Stress and Anxiety
First Aid for Mental Health (accredited version)
We hope to be able to deliver 2 day Mental Health First Aid on line from late June.
It terms of F2F training, we will be following government guidelines on social distancing and will offer our usual suite of courses (see below) when deemed safe to do so.
Finally - if we can offer help in any way during this difficult time, whether that is arranging a virtual course or just wanting a chat, please email our Training Manager - mark.willis@yorkmind.org.uk 

We provide training to a wide range of organisations in York and the surrounding areas including corporate clients, schools, colleges, statutory bodies and other charities. We deliver training to around 2500 people each year. The courses we offer include:
ASIST – Suicide Prevention (2 days)
Autism Awareness (2 hours)
General Mental Health Awareness (variable)
Mental Health Awareness in the Workplace (staff and manager versions) (variable)
Mental Health First Aid (2 days)
Mindfulness (variable)
SafeTALK – Suicide prevention (half day)
Stress Management (variable)
For full detail on each course - click on the 'Courses Available' tab to the left.
We can also work with you to develop a training programme which meets the specific needs of your organisation which we can deliver or alternatively can be delivered by your in-house trainers. For further information please contact us using the form below or email training@yorkmind.org.uk 
Payment for training can be made via BACS or over the phone/virtual card machine.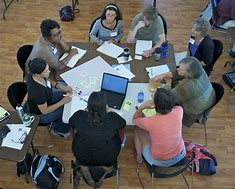 Contact us