Posted: 16th June 2021
Ewan - Squat out the year 2021
Here at York Mind we love a challenge but not sure we could keep up with this one by Ewan.
He has set himself a fundraising challenge of completing squats every day for a whole year, all in aid of York Mind.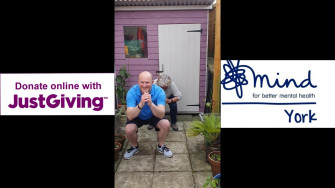 We spoke with Ewan to hear why he decided to embark on this challenge:
"I am a Firefighter at Tadcaster and Chuldow Tadcaster Martial Arts instructor who has suffered from long term mental health issues. I am attempting to break the stigma of the condition by doing the 'Squat Out The Year Challenge'.
I began doing sets of 20 squats a day on the first of January 2021 after forming the idea of how to support mental health in my own way. I am continuing the challenge all year and have already increased his daily squats to 35 a day. All this is to support the charity York Mind who offer support for people experiencing mental ill-health. 
As a mental health sufferer myself, I feel socially anxious and would have panic attacks frequently, which led to me being off work for some time. Even the smallest change in a known routine, would cause me to breakdown. However, I was open and honest about this condition to my family, friends and colleagues who all rallied to support me through these times. I also sought counselling to understand why it was happening, what were the triggers and what coping mechanisms to apply. I also consulted with mys GP . None of this is I am ashamed to talk about in the hope that sharing my experiences and treatment can help other sufferers too.
The reason I chose exercise to raise money is my ethos of 'motion breeds emotion', where by doing exercise makes you feel good, and also helps anxiety by removing the excess build up of contributing chemicals in the body. 
I am well over 5000 squats already and have, so far, raised in excess of £1100 for York Mind. I video my squats daily and post them on my social media and youtube accounts for everyone to see, I also have had a number of guest squatters feature in his videos! They have ranged from local radio presenters from York Mix and BBC radio York to colleagues, family, friends, martial arts academy members and an entire school from Seacroft-Leeds, Parklands Primary School. I also wanted to create as much exposure of mental health issues to show that it is nothing to be ashamed of "It's no different to any other injury, your brain is injured but you just can't see it like a broken bone for example. "
Check out my videos to see some of the interesting locations I have found to film my squats in, from training at work to out in the snow and rain, every tee box whilst playing golf and even in a number of supermarkets whilst shopping!"
Check out his Facebook

 

here
Check out his YouTube here
You can also visit his fundraising page
here.
As a local independent charity, here to support local people experiencing mental ill-health, fundraising like Ewan's is vital for us to be able to continue to run our services here in York.
To find out how you could get involved in fundraising or supporting York Mind email our team fundraising@yorkmind.org.uk or visit our fundraising support pages
 

here

.
Thank-You Ewan and good luck for the rest of the year from the York Mind Team