Posted: 23rd October 2020
York Mind Self-Care Starter Kits - just £12
Need a pick-me-up, or know someone who does?

Today, we're launching our brand new product... York Mind Self-Care Starter Kits!
Packed full of goodies designed to appeal to all your senses, at just £12.00 (minimum donation) each kit contains: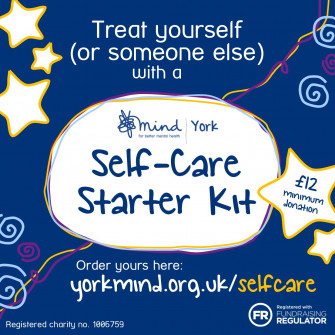 Rafi's Spicebox Curry Mix (full size)
LUSH UK handmade soap miniature
Handmade crocheted 'Positivi-Pea' character (from Hook Yarn & Ginger )
Invitation to an exclusive online York Mind Mindfulness taster session (December 2020 & January 2021 dates available)
Neal's Yard Remedies Wild Rose beauty balm
Chocolate foil-wrapped heart
Mini-easel with comforting quote card
Vanilla scented candle
Pukka Herbs Herbal tea bag (individually wrapped)
It's OK To Be Blue badge
York Mind pen
All proceeds from the Self-Care Starter Kits will go towards keeping our vital mental health services in York running.
There are only 50 boxes available, so if you'd like to order one for yourself or someone else, please visit the Order Form page.
Thanks for your support!