Posted: 5th December 2019
York Mind & Rethink York Group call for artworks on theme of 'Identity'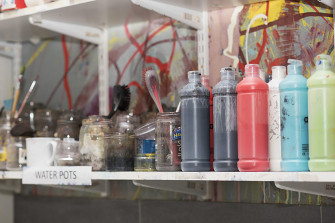 York Mind & Rethink York Group are calling for talented local artists to donate original artworks for a fundraising exhibition and auction in early 2020.
The two charities are co-hosting the popular annual fundraising exhibition & auction at the City Screen Gallery on Coney Street, for which the theme this year is 'Identity'.
The auction, which will run between the 25th of February and the 23rd of March 2020, will see donated artworks displayed on the wall and silent bids taken from the public. At the end of the exhibition, works are sold to the highest bidder, and all proceeds will directly benefit the two charities.
Since the first collaborative event in 2016, over £5000 has been raised to support local people living with mental health problems, and this year the two charities hope to make the event an even bigger success.
Holly Bilton, Fundraising Manager at York Mind said: "The art auction and exhibition is one of my favourite fundraising events, because it gives an opportunity for artists of any background to have their work displayed in a fantastic location in York.
"We're inviting artworks inspired by the theme of 'Identity' from anyone in the community; it could be your very first piece, or you could have a little more experience. We are looking for a broad interpretation of the theme – not just self portraits! To us, it's about celebrating creativity and the beneficial effects for mental wellbeing, and of course raising vital funds in the process."
Rethink York Group volunteer Lowra Kitchingman added: "It's also a great opportunity for people to buy a piece of original artwork whilst contributing to important mental health support in the local community"
York Mind supports around 4500 people in York every year, and needs to constantly raise funds to support individuals to continue their lives with a variety of mental health conditions.
Rethink York Group supports both mental health service users and carers through a variety of groups, social activities and support meetings in York, and also runs a number of successful fundraising events to help keep services running.
Artists wishing to donate works should get in touch with organiser Lucy by contacting: artauction@yorkmind.org.uk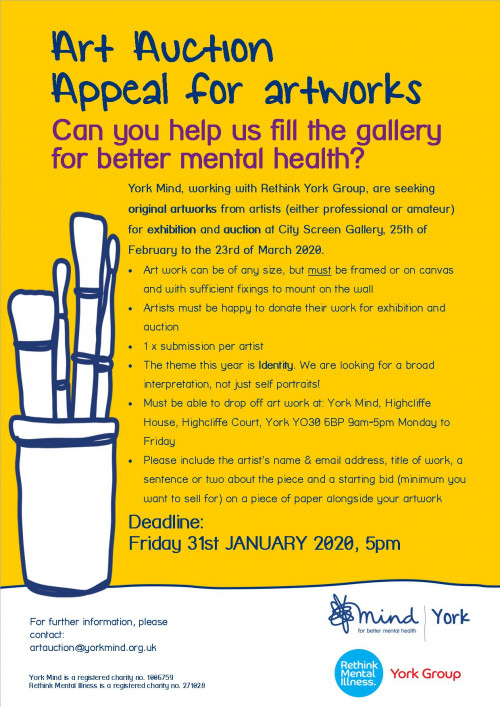 For more information about York Mind visit www.yorkmind.org.uk.
For more information about Rethink York Group visit www.rethink.org