Posted: 1st July 2019
Saks race to raise funds for better mental health
A team of hardy souls from York based Saks hairdressers are swapping their trimmers for trainers to take on the 'Tough Mudder' challenge, to raise funds for mental health charity York Mind.
On 27th July, the team (named 'Beauties and the Beasts', and consisting of Steph and Ben Aked, along with friends Louise Cameron and John Hall) will take on the 10 mile obstacle course in the mud - a challenge with which they are aiming to raise an ambitious £500 for charity. The group chose York Mind, in response to mental health problems experienced by those close to them.
Mum-of-two Steph, a Saks stylist of 16 years, commented: "A member of our family experienced a bout of poor mental health last year - they had lost weight, were having trouble sleeping, couldn't switch off, and unfortunately they then had a breakdown in October 2018. Getting their official diagnosis was actually life-changing, meaning they could be treated with the right medication."
Ben continued: "In 2013 we lost a close friend to suicide at just 28 years old, and we had no idea that they were unwell. We all need to be able to recognise the early warning signs, and make sure help is available when problems happen – which is why we're fundraising for York Mind. It's comforting to know that there are people there who can help."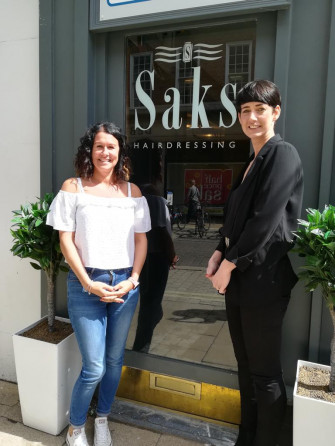 Louise & Steph get ready to take on Tough Mudder
Louise, a full time mum, added: "I have struggled myself with PND, anxiety and panic attacks after having my kids. It was a vicious circle, and I was overdoing it. I've tried lots of different therapies and I've found Mindfulness techniques really help me, but it's different for everyone. Knowing there are various ways you can help yourself makes such a difference."
So why, after such difficult times, have they decided to take on the Tough Mudder?
John said: "It's a pleasure to be able to do this Tough Mudder challenge with a wonderful group of people for an amazing charity. Mental health could affect any of us at any point, and in most cases a family member or friend is already suffering with some mental illness. To be able to complete this challenge is a blessing, as there is a segment of the UK population who cannot face life itself, let alone compete in an event like this. To be able to give something back to those individuals whilst we can is an honour and a privilege. The challenge is to get around in one piece, as a team and have fun."
Louise continued: "We will all be nervous, but if you can do that, you can do anything. It's a mental challenge. With other events we've done, even people you don't know pick you up on the way.  There are lots of people openly sharing. We'll be going up and down hills, through tunnels, wading through water – I think we're all looking forward to the party at the end!"
The team's Justgiving page can be found at: https://www.justgiving.com/fundraising/steph-aked2
York Mind supports around 4500 people in York every year, and needs to constantly raise funds to support individuals to continue their lives with a variety of mental health conditions.