Posted: 12th May 2021
RRT support local Mind's with Yorkshire 3 Peaks
The local team from RRT (Rapid Relief Team) support York, Leeds and Bradford local Mind's in preparation for the Yorkshire Three Peaks challenge.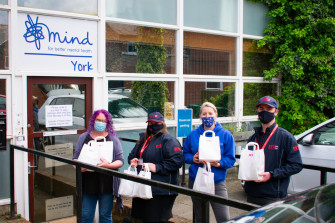 Three local Mind's have joined forces for their annual Yorkshire Three Peaks challenge organised by Lost Earth Adventures.
RRT offered their support with grab bag snacks for Mind to give out to their participants along the way.
Charles, a Local Team Leader said "Rapid Relief Team (RRT) delivers hope and relief to people across the globe.  Whether it be fire, flood or humanitarian need, RRT expands their support services to meet the need at hand.  Our Mission is to serve people with care and compassion in their time of need.  Our volunteers have an excellent knowledge of the local areas in which they operate, thanks to strong relationships with local authorities, the police and social services.  This is all part of our community-driven approach which aims to make sure that those in need are always getting the support they need"
RRT's work is so amazing and really supports us with events like this, we are looking forward to working with them again as soon more events are allowed.
A huge thank you from York, Leeds and Bradford Mind's and all the local people they support.
contract fundraising@yorkmind.org for more details or to get involved