Posted: 28th February 2020
PenLife Associates launches year of support for York Mind
York-based financial planning firm PenLife Associates are celebrating a 'waffley good' decision this week – by choosing to support mental health charity York Mind as their 2020 Charity of the Year.
The decision to support mental health in York followed a staff vote, and a visit from the charity to their premises at Nether Poppleton.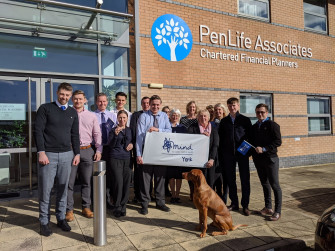 The firm's fundraising has kicked off with a scrumptious 'Shrove Tuesday Waffle Sale' for staff. Over the coming months, PenLife Associates have got an exciting calendar of events planned to raise funds with staff – including a 'Spud Club', blue bake sale, sweepstakes, dress up / dress down days and entering a team of runners into the popular York 10k.
Julie Wilson, PenLife Director, said, 'We are delighted to be supporting York Mind. It is a fantastic local charity that not only offers counselling services, but also advocacy, training and peer support. These services are becoming increasingly in demand which makes fundraising even more crucial. We are looking forward to many fundraising adventures and hope to raise as much money as we can to help York Mind provide support to anyone who is suffering from mental ill health in York.'
York Mind are an independent mental health charity supporting adults and young people in York experiencing mental ill-health.
If you, or someone you know would like to access support, please visit www.yorkmind.org.uk to view support available in York & self-refer.
To donate to PenLife Associates' fundraising efforts, please visit https://justgiving.com/fundraising/penlife