Posted: 5th November 2019
New Volunteering Opportunities with our Young People's Counselling Service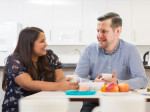 We currently have some exciting volunteering opportunities available within our Young People's Counselling service.  
Our service promotes positive mental health through providing a confidential space for young people to talk to a trained person about something that is on their mind or is a problem to them.
If you are a trained counsellor who would like to offer some sessions to 16 to 25 year olds living in York please click here, or if you would like to join us as an administrator please click here to find out more.