Posted: 12th October 2022
My Mind On A Mural

The FINAL Group is at Door84 Youth and Community Centre, 84 Lowther Street, The Groves, York, this provision has already started, see below for details.
To make a referral please go to the bottom of the page.
My Mind On A Mural (MMOAM) has completed two groups thus far:
Danesgate Pupil Referral Unit
A group that was ran from York Mind, Highcliffe House.
The groups were led by Stef Bricklebank (Danesgate and Highcliffe House) and Kelly Newton (Highcliffe House only), with a wonderful volunteer too, Josh Jackson, who shared his expertise as a freelance graphic designer.
During the groups they used art as a way of creating a story with a beginning, middle and end! Whilst using the art as a platform to have open conversations around mental health and suicide.  The storyboards created were then given to Keith Hopewell to create a large piece of graffiti to be showcased in York.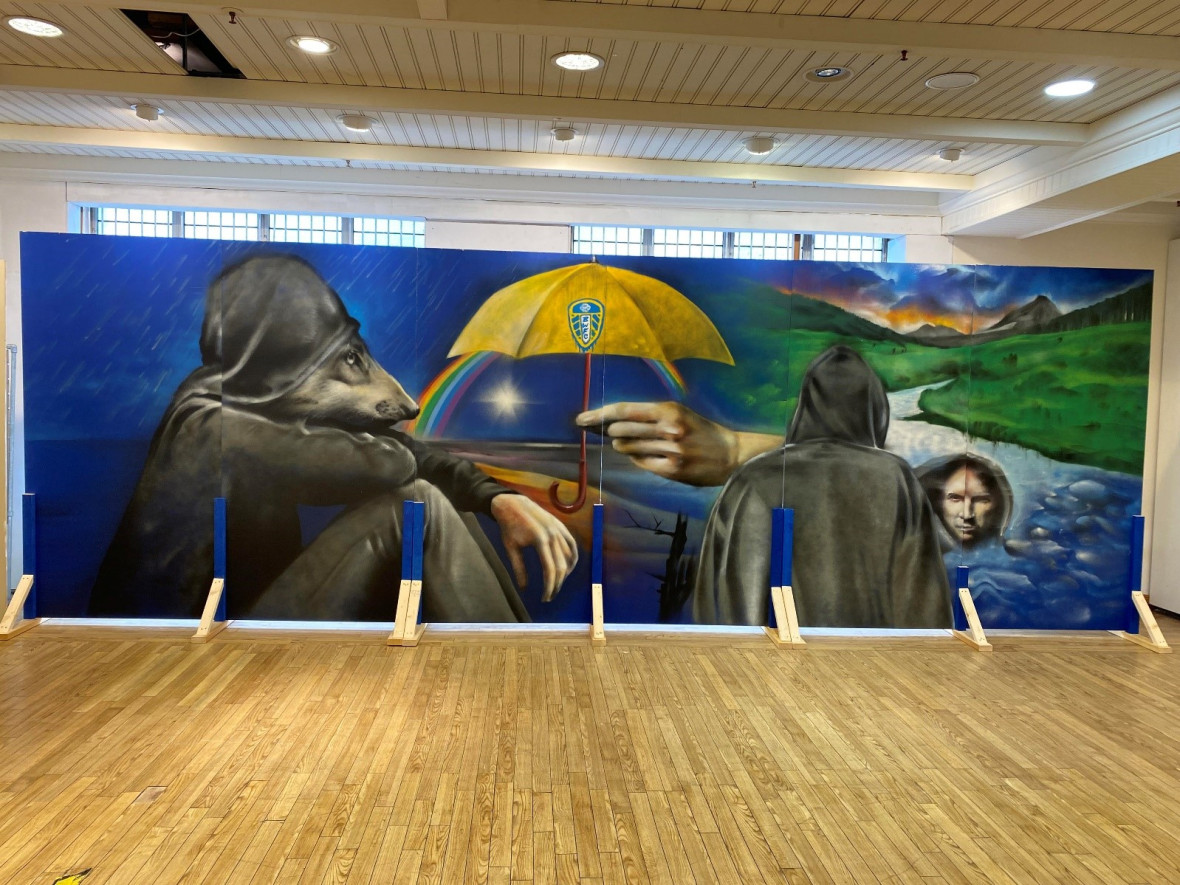 The artwork was displayed in Fabrication, Coney Street, during May and June 2023. The finishing artwork was created by a graffiti artist, Keith Hopewell. The story created is to be used as a platform for open conversations around mental health.
Find out more about the exhibition here.
The aim and objectives of MMOAM are as follows:
Use art as a stimulus
Have a safe and nurturing space to create own art pieces
Explore stories and personal experiences of mental health
Promote open conversations around men's mental health 
Discuss suicide and create a visual story to enable the community to stop and think and also learn where to get help, if and when it was needed
Discover and develop skills in different art forms
The FINAL group is at Door84, Youth and Community Centre, Lowther Street, York, YO31 7LX . 
Age Range: 11-16 year olds, males and young people representing as male.
Day: Wednesday's
Time: 4pm to 5.30pm
Dates: September to October 2023
Dates are as follows: 20th Sep, 27th Sep, 4th Oct, 11th Oct, 18th Oct, 25th Oct 2023. 
The sessions will consist of:
1.5 hours of art based work, with a theme each week
During the sessions you will discuss mental health issues
The graffiti artist who will create the end product is been sourced by Door84 and the art work created during the sessions will become a permanent fixture on the outside walls within Door84's external space. 
Snack/food will be provided by Door84
Door84, Youth and Community Centre, Lowther Street, York, YO31 7LX 
You can make a referral below or let the staff know at Door84 that you would like to go on the list.
To make a referral for the next group here: 
Young people themselves are welcome to make referrals as well as parents, carers or other professionals on their behalf. If you have any questions or would like to have an informal discussion with the team, please email youngpeoplegroups@yorkmind.org.uk or call 01904 643364 and select option 2.
To refer in, simply complete our referral form here (select young peoples groups from the drop down menu) Or download the Word Version and send to youngpeoplegroups@yorkmind.org.uk