Posted: 30th July 2019
Holly & Georgie release their single 'The Body Positivity Song'
Holly & Georgie are two pals from York who want you to love your body a little bit more. And over 65,000 people happen to agree with them.
York Mind Fundraising Manager Holly and Young Person's Co-Ordinator Georgie joined forces united by their desire to celebrate body positivity during Mental Health Awareness Week.
They set themselves a challenge.... to ask the general public what they liked most about their bodies and why, and then put their answers to music.
The task was more arduous than first thought; people were initially shy to get talking. After all, many people are told from an early age that their bodies aren't good enough, that they should be striving to achieve the pinnacle of TV-show beauty, whatever the cost. But eventually, through a combination of conversational charm and some gentle nudging, the body positive quotes came forth. 1 ukulele, 4 pieces of notepaper and 15 minutes later, 'The Body Positivity Song' was born.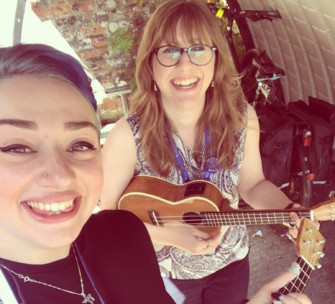 Holly & Georgie promised the contributors that they would upload a video of the song once it was finished. So, after a hasty rehearsal, the two took to York Mind's patio in Clifton and filmed a live version of 'The Body Positivity Song', with the birds singing in the background, Holly playing the only 4 chords she knows on ukulele and Georgie interpreting the lyrics through some cool dance moves. They had a giggle, uploaded the video to the York Mind Facebook page, and hoped it might make a few people smile.
Imagine then Holly and Georgie's surprise when their little video hit a worldwide video sharing page on Facebook, 'Pretty52', and was viewed over 60,000 times in a week!
The response to the video was astounding; it seems that their body positive message rang true for lots of people across the social media world, and soon they had hundreds of likes, comments of support and shares from across the globe.
Not wanting to miss an opportunity to help York Mind, Holly & Georgie decided to record and release 'The Body Positivity Song' as a single – with 100% of download & streaming proceeds being donated towards mental health support in York.
'The Body Positivity Song' by Holly & Georgie is now available on:
Or drop us an email if you'd like your very own signed CD of the song!