Posted: 25th February 2020
Art Exhibition & Auction at City Screen Gallery now live
Very pleased to announce that our fourth Art Exhibition and Auction with Rethink York Group, 'Identity', is now up at the City Screen Gallery!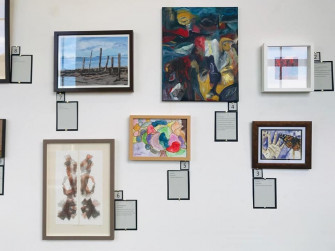 Between 25th February - 22nd March, you can visit the gallery (up the stairs and turn right at the City Screen cinema, Coney Street) any time during cinema opening hours, to view all 41 pieces of artwork. It's free to go in and view the exhibition (you don't need a film ticket).
All the pieces have been donated by talented local artists. Every piece is available to make a silent bid on, if you'd like to pick up some very affordable art!
To make a bid, simply visit the gallery, complete a bid slip and leave it in the bid box. Current bids are updated daily.
A huge thank you to all the fantastic artists who have donated works, to volunteer Lucy for bringing it all together, and to the team who worked so hard this morning putting the exhibition up.
Any queries about the exhibition, or to make a proxy bid, please contact fundraising@yorkmind.org.uk .