Meet the Young People's Team
We know it can be strange speaking to people over the phone when you cannot put a face to their name, so we thought we'd share a bit about ourselves here.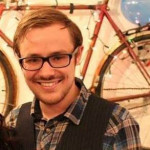 Rab Ferguson
Hi, I'm Rab. I'm the Young People's Manager at York Mind. I've worked with young people for the last 8 years—in a variety of jobs including leading theatre workshops, and storytelling in libraries! My interests include cycling, writing, photography and listening to music, though not all at the same time. I'm currently spending a lot of my time social distancing watching Disney+ and Netflix.
If you text the drop in number, it will be me or Georgie that you'll be speaking to. We'll also be the ones who speak to you around joining phone mentoring or online groups.
Georgie Fishkin
Hi, I'm Georgie! I'm the Young People's Coordinator here at York Mind. I've worked with young people over the last 8 years in a lot of different settings, from theatres to correctional facilities and more.  As well as working for York Mind, I also run my own dance fitness classes as I am also a trained dancer and performer. I have lots of hobbies that I enjoy including fitness (of any sort other than doing planks), musical theatre (I sing at any given opportunity) and any films or series that involve a lot of crime. At the moment, due to being inside 24/7, my main hobby is hanging out with my two best pals Sully and Hattie a.k.a my dogs.
I'll be here to help you with any information regarding our services like, referrals, assessments and groups- I'll also be running the Wellbeing toolkit via zoom!