Staying Ok Project                                
"Helping you stay mentally resilient in a changing world"
**UPDATE 21/01/21 - WE ARE NOW CLOSED TO NEW REFERRALS**
Are you ready for what life might throw at you? Stressful events, or circumstances can throw us off balance.
Covid-19 has impacted on everyone over the past few months and is an example of a stressor, which can negatively affect our mental well-being.
How will you protect your mental wellbeing? Would you like support to stay well and resilient?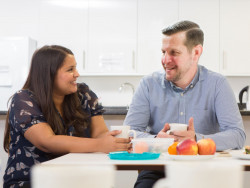 The Staying OK project helps you to future proof your mental health and be better prepared for when something unexpected knocks you off balance.  Through our free one to one coaching and telephone support, you'll develop awareness and skills to prevent stressful events having a negative impact on your life. This is a unique opportunity to invest time in yourself, so you have more energy to focus on the things that really matter to you.
Over 6 weeks, our free 1 hour weekly sessions can help you:
Talk to someone who understands your mental health concerns 
Identify aspects of life that are not working, as well as you'd like
Identify and work towards meaningful and realistic goals
Find solutions and coping strategies to support your wellbeing
Achieve your potential
1-1 Telephone Support
Our 1-1 telephone support, offers a designated space for users to talk through how they are feeling and coping currently. Sessions act as a safe place to check in, reduce isolation and identify coping strategies. Sessions may include providing information, or signposting to other services. ** Please note this service is not a replacement for counselling or therapy.
1-1 Coaching
Our 1-1 coaching provides structured and goal focused support. Users are required to have a clear goal or objective, and be committed to working on this in a time focused way. Working together over 6 sessions, our coach will support you to progress your goal and help you identify and work through any barriers to achieve this.
Who can access
These services are open access for people who:
Are 18+
Do not identify with having mental ill health, but are struggling with their mental well-being currently due to Covid-19
Have accessed MH services in the past and are looking to prevent MH deterioration and relapse 
Cost
Free
For further information or to register your interest in the group, please get in touch with the Activities/ Staying OK Project team:
Email: activities@yorkmind.org.uk  or Telephone: 01904 643364 option 5.
Alternatively please complete and return the attached registration form and we will be in contact.
Staying OK Project - Registration Form version 3
Funding from the Coronavirus Community Support Fund, distributed by The National Lottery Community Fund, has helped us to deliver this project. Thanks to the Government for making this possible.