It's OK To Be Blue
Fundraising Ideas
It's important to choose an activity that works for you, and your group. Make it easy on yourself, go with your instincts and interests, and most importantly make it fun!
Some ideas for virtual fundraising can be found on our website here: https://www.yorkmind.org.uk/get-involved/fundraising/virtual-fundraising/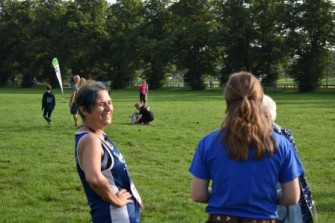 In the past, all sorts of things have happened to raise funds for It's OK To Be Blue month:
Blue Karaoke Night

Blue Parkrun (everyone at Heslington Parkrun was encouraged to wear blue for the regular Saturday run!)

Blue themed Film Nights

Blue cheese sandwich sale

Blue-themed curry night

Blue 'formal' dress up / dress down day
Downloadable Resources
We've got you covered to make your blue-themed activity the best it can be. 
Simply choose and download what you need from this list and you'll be off to a flying start!
Fundraising Checklist – this is a great place to start if you're looking for inspiration/ideas for activities! Remember, whatever you do – make it blue
A 'Paying the Funds' handout (for when your fundraising is complete and you're ready to finish things off)
York Mind 'It's OK To Be Blue' pin badges
We have a supply of exclusive It's OK To Be Blue pin badges which we can send you free of charge if you would find these helpful with your fundraising. Please email us on fundraising@yorkmind.org.uk, if you would like some of these sending to you, and roughly how many you need, and we'll pop a supply in the post!
Let's get social

During the month of March, the official hashtag we use is #ItsOkToBeBlue. Don't forget to tag us online if you're posting about your activity!

Our various online identities are: